The Design 4 75x50 hollow cedar/ply outboard oar has cedar flanges about 1mm thinner than the design and as a result deflects 100mm. Today I loaded it up to 1000N at 3.0 gearing: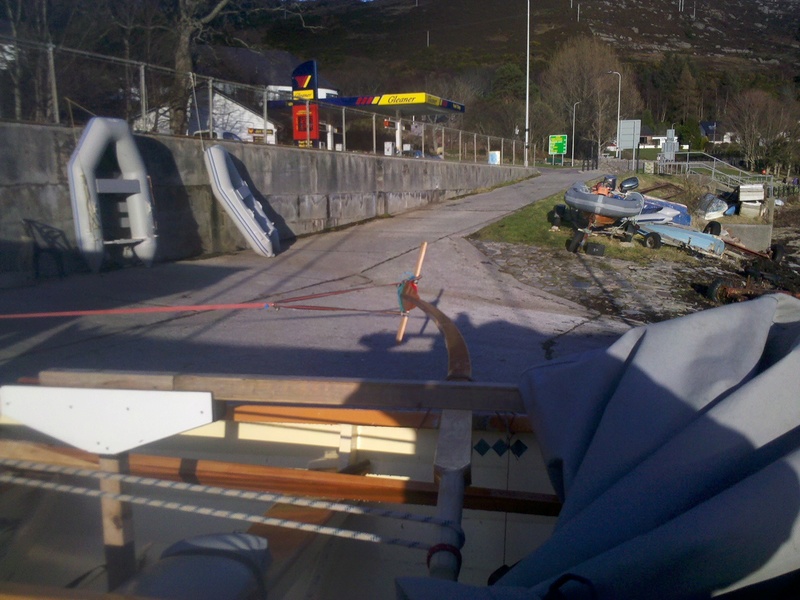 I took this photo in a hurry because I was not sure how long the oar would stand the load. The handle was restrained by the bow rope and the blade was pulled back to the bow by a ratchet strap attached to a 50kg electronic luggage scales. At 34kg = 333N= 1000N/3 the handle force is 1000N and the pin force is 1333N.
I'm relieved that they all stood the load because this was my weakest and softest oar.
That looks very impressive, Topher. Tell me, how much flex was there in this oar during 'normal' use? Would a strong rower be able to bend the oar to anywhere near this extent? Having done a static test such as this, I'm curious to know what your thoughts are regarding the suitability of the 1000N design value. (Too high, too low, about right?)

Finlay Robertson




Posts

: 27


Join date

: 2016-11-29


Age

: 31


Location

: Edinburgh/North Berwick



The 10kg deflection test is around what a "normal" stroke would be, and at 100mm it is softer than our target and softer than I'd really like in an oar. It is however rowable and quite liked by our ladies.

I do not think even a strong rower could get this much bend so I'm quite comforted.
---
Permissions in this forum:
You
cannot
reply to topics in this forum